Primary care in the Nueva Capital district of Honduras
The Fundación del Valle and the Collaboration and Effort Association (Asociación Colaboracion y Esfuerzo; ACOES) are launching a project aimed at bolstering primary health care in the Nueva Capital area of Tegucigalpa, Honduras.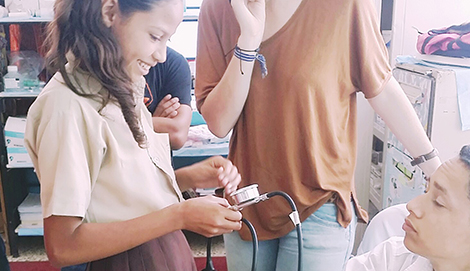 CONTEXT
Honduras is the second poorest country in Latin America, after Haiti. Its Human Development Index (HDI) stands at 0.418, on a level with the poorest African and Asian countries, and the lowest in Central America. 80% of the population lives on less than two dollars a day, and this poverty is clearly visible in the neighbourhoods surrounding its cities.

Access to health systems remains deficient for the general population. 46.6% of rural communities lack health centres or medical brigades.

PROJECT
The project seeks to strengthen health coverage in Nueva Capital, with an emphasis on prevention, training and the protection of children, as a model for future interventions by the public health authorities.

To achieve this, medical equipment, medicines and materials will be purchased and installed at the clinic, and the team of doctors and dentists from universities will be expanded. Another of the activities that will be carried out is the organization and holding of training days by 10 health promoters/agents, making possible a health training and preventive care campaign in the long term. There will also be awareness-raising workshops on preventive health habits, and house calls in Nueva Capital made by health agents.

The execution of the complete programme is slated for July 15, 2017 to July 14, 2018.

BENEFICIARIES
The direct beneficiaries are 11,250 people. Of these, 5,625 are women and 5,625 are men, who will obtain health care and health-related training. Of these, 2,200 are children ages 4-18, at ACOES schools; 150 are children under the age of 4 who still do not go to ACOES schools, and 10 are collaborators who will become health agents.

The indirect beneficiaries are 25,000 people from the general population across the rest of the settlement, insofar as it contributes to the improvement of the health system.