Prevention and treatment of obstetric fistulas with the Liberian Government (the Ministry of Health and Gender) and the Joseph Catholic Hospital of Monrovia, Liberia
The Mujeres Por África Foundation, in collaboration with the Probitas Foundation, is carrying out a project with the Liberian Government (the Ministry of Health and Gender) and the Joseph Catholic Hospital of Monrovia for the prevention and treatment of obstetric fistulas. The project is performed with surgical missions bringing in specialized medical teams for one week/ten days who operate on an average of between 40 and 50 women.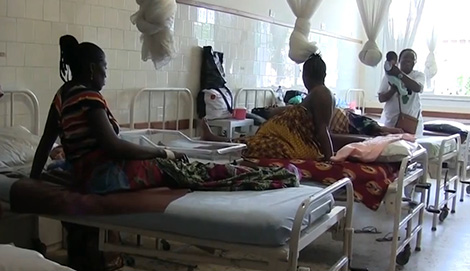 CONTEXT
Liberia has a population of 4.5 million inhabitants, almost half the population (46%) is aged less than 15 years. The fertility rate has decreased from 6-7 to 4.7 births/woman. Educated women have an average of 3.4 children whilst those without studies have 5.9. Out of the adolescents, 31% aged between 15 and 19 are pregnant or already mothers, and 56% receive medical attention during birth whilst 44% have home births.
During the worst period of the Ebola epidemic in Liberia, the healthcare system was seriously affected. Many members of the medical profession died which discouraged both patients and medical staff from attending the hospitals for fear of the disease. As a result, mobility and maternal mortality increased considerably. It was not until November 2014 that the hospital was able to safely attend more than 3,500 women.
PROJECT
The general aim of the initiative is to contribute to the eradication of obstetric fistulas in Liberia. Surgical treatment or reconstructive surgery is a central component of the project as this is the only way to cure a fistula, something absolutely out of the reach of the women of the community who are often marginalized because of their gynecological problems.
The objective of the missions is to carry out surgical interventions for as many women as possible suffering from this complaint in Monrovia. To this end, one or two surgical missions will be established in 2016/17 to offer treatment to some 70 to 90 women. In addition, training will be given to healthcare workers in surgical techniques and other specialties (gynecology, urology and the like) and a nursing center set up to guarantee the sustainability of the project. Finally, the reinsertion of the treated women will be dealt with so that they can be accepted once again by the rest of the community and thus improve their quality of life.
BENFEFICIARIES
The number of expected direct beneficiaries after executing the project will be between 70 and 90 women who currently suffer from obstetric fistulas. The healthcare personnel who receive training during the surgical missions should also be considered direct beneficiaries of this initiative as training is one of the fundamental pillars of the project.