Preventing malaria in pregnant women and children aged less than five years in the hamlets of Incucutuco and Incoripo, Mozambique
The Fontilles and the Kulima Association project is aimed at preventing malaria in pregnant women and children aged less than five years in the hamlets of Incucutuco and Incoripo, located in the province of Cabo Delgado (Mozambique). The project will be based on a network of midwives and health promoters in order to promote safe childbirths and fight malaria. In addition, an awareness campaign with respect to this disease will be carried out and two health centers will be set up for the prevention, diagnosis, and treatment of malaria.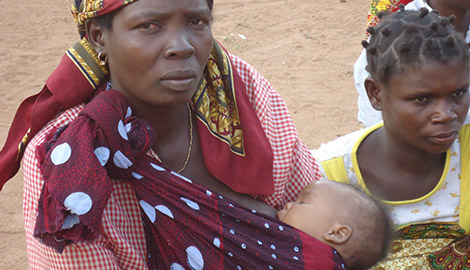 CONTEXT
In the district of Meluco the population suffers from a complete lack of basic health infrastructures. The hamlets are an average of 15 kilometers from Pemba, the district capital. Such a situation, together with a scarcity of specialized healthcare personnel and information, signifies that the population in general, and the women and children in particular, are extremely vulnerable to malaria.
The population of Mozambique has a greatly elevated rate of infant mortality with 82 deaths for every 1,000 births, and a perinantal rate of 62 deaths for every 1,000 births.
Only 38% of the pregnant women receive prenatal care and of this number a mere 7% have access to information about complications in pregnancy. One out of every three births in this region takes place in a healthcare center. With respect to medical care, only 34% of the minors with fever is attended, one third receiving anti-malarial treatment and 8% antibiotics.
PROJECT
In 2011 Fontilles y Kulima began to work in four hamlets in the Meluco district (the province of Cabo Delgado) attending 6,000 people in a project to fight cholera, malaria, and leprosy.
Currently, the aim of the project is to continue in its struggle against diseases related to poverty, in particular, to decrease mortality and morbidity caused by malaria.
Two main objectives have been established in this project. On one hand, to create a communal system of entomological surveillance integrated into the local health structures in order to reduce malaria in the zone. And, on the other hand, implement access to the diagnosis, treatment, and prevention of malaria for pregnant women and children aged less than five years.
In order to achieve these objectives courses have been set up for promoters and midwives in each hamlet. Later, information campaigns for the prevention of malaria will be established through radio slots and theatrical performances.
In order to improve the treatment and prevention of malaria in women at childbearing age, and especially in those who are pregnant, the creation of two healthcare centers and the start-up of four campaigns for the active detection of malaria are foreseen. These campaigns will contribute to the register and follow-up of the cases, both in women and children less than 5 years, and help in the distribution of medication. Moreover, mosquito nets will be handed out with instructions on how to use them. Finally, during the campaigns the risks associated with catching malaria during pregnancy will be explained.
In summary, the project aims to reinforce primary healthcare with informative campaigns, the training of local healthcare personnel, and the provision of resources to fight malaria.
BENEFICIARIES
The beneficiaries of the project are women at childbearing age, pregnant women, and mothers of children aged less than five years. Basically, the project is dealing with a rural community, employed in agriculture and with scarce economic resources.