Prevention and reduction of the incidence of Chagas disease in Bolivia
Nor Sur is a non-profit organisation responsible for carrying out a project to prevent and reduce Chagas disease in the municipalities of Huacareta and Monteagudo de Chaco in Chuquisaca, Bolivia.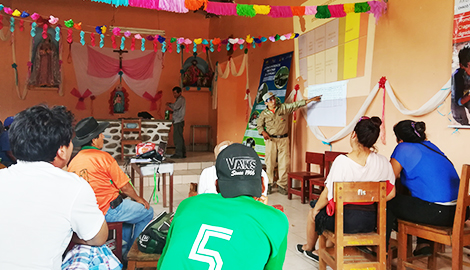 CONTEXT
The municipalities of Huacareta with 8,280 inhabitants and Monteagudo with 24,118, which together with Vaca Guzmán, Huacaya and Machareti, form the Chaco Chuquisaqueño, is characterised by hosting a Guarani population and agricultural farmers.

Most of the population is characterised by living in unsecure housing, leading to an absence of healthy home habits which, together with poor environmental conditions, favour the vector's (Triatoma infestans') spread. The region's health services face technical and equipment limitations when it comes to diagnosing, treating and following-up patients. This is aggravated by low community participation in health management.

PROJECT
To meet the project's main aim, which is to contribute to the decline in conditions of vulnerability and the incidence of Chagas disease in 1,571 Guarani and farming families in the municipalities of San Pablo de Huacareta and Monteagudo, various activities will be carried out, for example:
Workshops to raise awareness and validate the participatory model to control and prevent Chagas disease with the social network, health personnel, network management, and municipal authorities.
Supplementary events for the inclusion of the strategic participatory model of prevention and control in sectoral and municipal health plans.
Implementing the medical, nursing and laboratory personnel training plan, for the diagnosis, treatment and follow-up of patients.
Socialisation and accountability to beneficiaries and institutional stakeholders involved in the project.
Equipping the laboratories for early detection and diagnosis in three health services.
Communal workshops to organise community "Vector Information Posts" in 30 communities.

These actions will enable the municipal health systems of these municipalities to be strengthened in the fields of prevention, control, diagnosis, and treatment of Chagas disease, focusing on participatory and community management.

BENEFICIARIES
The direct beneficiaries of the project are a total of 1,571 families, 55 professionals from 10 health services and teachers in 23 educational units. The indirect beneficiaries are 4,400 families in the area of intervention.