Paediatric primary care and community health improvement in Meki, Ethiopia
The project of the Pablo Horstmann Foundation and the collaborating entities Alter and Willys aims to improve the health of mothers and children in Meki by reducing morbidity and mortality rates in children under five years of age, and in lactating and pregnant women. Its mission entails a fight against malnutrition and prioritising health-related education, both in the "Let Children Have Health" Paediatric Clinic and through a community health programme carried out in rural villages.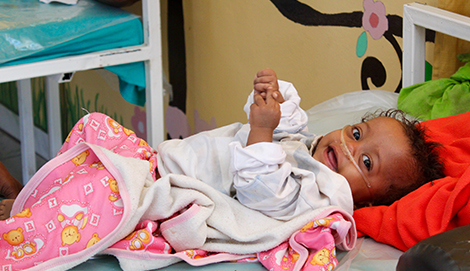 CONTEXT
Ethiopia is considered one of the poorest countries in the world, ranked as a Least Developed Country by the Development Assistance Committee (DAC), and ranking 174th in the Human Development Index (HDI) of a total of 180 countries analysed. In Meki's area of influence there live some 81,000 children and young people under the age of 18.

PROJECT
The project is based on different socio-epidemiological studies in the Oromía region, which identify as priority problems the deficient health care, the high rate of maternal and child morbidity, the population's lack of education in health, and the poor training and insufficient resources of state health agents.
The main actions involve bolstering the activities of the paediatric clinic by promoting a local health team trained to care for patients at five external medical offices, supporting subspecialisation campaigns in Cardiology and Dentistry, among others, and prioritizing this service.

We also wish to promote community health in Kebeles through the training of state health workers in rural clinics, the organization of seminars and talks with state health agents, and the provisioning of resources for them to train mothers and young people on basic health, hygiene and nutrition issues. Finally, we aim to encourage discussions regarding health education and prevention for women in the area.

BENEFICIARIES
The direct beneficiaries are the 81,000 youth under the age of 18 who will enjoy access to free, high-quality health care, of whom approximately 41,000 are girls, and 78,000 are under the age of 15.

Also benefitting directly are the 86,700 women of Meki, who will receive health-related training and education in their villages. It is estimated that women of childbearing age number 40,000, while pregnant women requiring obstetric and prenatal care total 7,200.

The indirect beneficiaries are the 170,000 people who make up the general population of Meki.