Outpatient medical and nutritional assistance in association with the 'Ankur' Children's Home in Mumbai, India
In Mumbai, Proinfants is carrying out a project of outpatient medical and nutritional assistance in association with the 'Ankur' Children's Home. The aim of the project is to provide nutritional and medical care for identified groups of minors and mothers in the slum areas of Laksmi and Kasigaon for 24 months with an average of 50 to 80 beneficaries a day.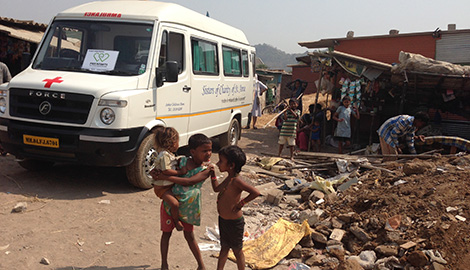 CONTEXT
Mumbai, the state capital of Maharashtra, in India, has a population of more than 13 million inhabitants, 72% (that is to say 9.4 million) of them living in slums, and of these 3.5 million are children. The city is divided into different districts including Mira Road where the two slum communities of Laksmi and Kasigaon are located. It is here that Proinfants carries out its project with the inhabitants who have come mainly from rural areas. These irregular communities lack any basic services: supplies of water, electricity, sewage network, healthcare and food supplies.
PROJECT
Proinfants' counterpart, the 'ANKUR' Children's Home, has a van that has been modified as an 'itinerant ambulance' so that it can make daily visits to these slums. It is driven by a professional who knows this area, which is lacking any kind of road infrastructure, and who is able to circumvent the 'streets' which often become totally impractical, especially in the monsoon season.
A registered nurse and assistant are the technicians responsible for attending the mothers and children, and also for the medical follow-ups with their registers. They have medical supplies and generic drugs which they can prescribe free of charge.
The most common diseases and problems diagnosed are: wounds infected due to lack of hygiene, inflammations caused by dislocations, blows or falls, dermatological illnesses due to insect bites, different degrees of malaria, intestinal disorders caused by food poisoning or lack of drinking water, and insufficient alimentation in newborns and children up to 10 years.
At the same time, a complementary program of emergency food security is being carried out with the supply of a weekly family diet consisting of four eggs, fresh milk, and two packets of biscuits.
The expected results are an improvement in the health and alimentary conditions of the child population and their mothers in these slums.