ophthalmological expeditions to operate patients with cataracts and without resources in disadvantaged areas
Over the last 11 years the Barraquer Foundation has carried out 80 humanitarian missions, operating on more than 10,000 people for cataracts, attending 40,000, and providing more than 16,000 pairs of glasses in Africa, Asia and, more recently, Latin America. The usual mission team is composed of 6 people (medical staff + volunteers) who operate in the field for a week in collaboration with various local entities.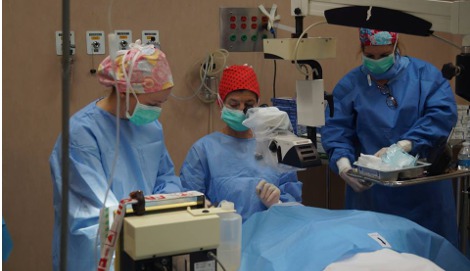 CONTEXT
According to data from the WHO, of the 39 million blind people in the world 20 million suffer from this condition due to cataracts. In the developing countries, malnutrition and excessive exposure to ultraviolet rays make cataracts the main cause of blindness; however, an operation that in western countries is easy to access and relatively simple, is inaccessible for the majority of this population. Being blind in developing countries is a question of survival not only for the adults who suffer from it, but also for their families who have to take care of them. For a child it represents exclusion from schooling which could provide a better future.
EXPLANATION OF THE PROJECT
In first place, the local medical team carries out a patient selection process and is responsible for patient follow-up once the expedition has finalized. Whether the authorities are involved or not, the entity that accepts the expedition is in charge of organizing it. Generally, the surgical team of the expedition stays for a week in the location; during this period they basically operate on cataracts but there are also some pterygiums. By the end of each expedition some 150-220 operations will have been performed. In many of these countries there are always enough patients to repeat the expeditions every year or every other year so as to continue work started or control treated cases from previous expeditions. Various local associations provide logistical support in finding hospitals or suitable centers to carry out surgery, they also supply support personnel and the patients themselves. In this way, maximum efficacy is obtained from the expeditions as from the very first day there are patients to attend and operate on.
BENEFICIARIES
During each expedition around 200 people are operated on for cataracts.
The Barraquer Foundation plans to carry out from 10-12 expeditions during the year.