Operation Heartbeat
The objective of the project implemented by the Hospital Hernandez Vera of Santa Cruz de la Sierra in collaboration with the Gregorio Marañon Hospital in Madrid is the detection of Chagas patients at risk of sudden cardiac death from arrhythmia, heart failure or ischemic heart disease and the implantation of a pacemaker, defibrillators or other measures in order to avoid these complications.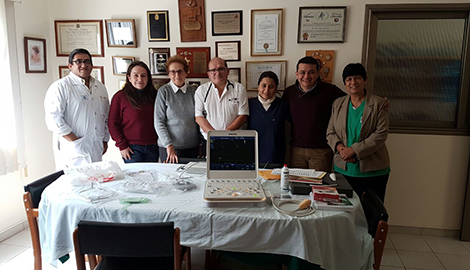 The foundational goal of Hernández Vera Hospital, where the project is developed, is to be a social hospital serving the community, to provide health services with a high human and Christian sense based on the principles of ethics and efficiency.
In the case of this project the overall objective is to contribute to reduce mortality and impaired quality of life associated with chronic Chagas disease in the population without resources in rural area and suburbs of Santa Cruz de la Sierra in Bolivia.
CONTEXT
Chagas disease is one of the biggest public health problems in Latin America, a recent World Bank report indicates that it is the fourth leading cause of economic loss due to morbidity in Latin America.
There are approximately 1 million people suffering Chagas disease in Bolivia, as an estimate figure, because the country does not yet have a serological survey (laboratory) to confirm the data.
It is difficult to quantify the disease. Most people doesn´t know they have it because it is asymptomatic and is manifested in 30 or 40 years after getting infected. In addition, it's not common to do a test at the health services to detect it.
Despite the achievements of reducing the presence of the insect vector that transmits the disease in the country, there are an estimated 4 million Bolivians at risk of contracting the disease and 800,000 people are infected without knowing it.
PROJECT
As specific objectives the project plans:
The detection of Chagas heart disease in endemic rural environment.
The characterization and identification of the risk of death from heart failure arrhythmias, heart disease or cardiogenic stroke by an skilled staff in a nonprofit hospital setting.
The implementation of pacemaker implants and other therapies in whom required within such an environment.
Monitoring of patients in treatment or identified as in future risk.
The main activities planned for this project are:
Stay and training of two cardiologists during six months in Spain (Hospital Universitario Gregorio Marañón)
Identification of people infected with Chagas in rural area and suburbs of Santa Cruz.
Confirmation through diagnostic tests, of possible future severe cardiac failure.
Pharmacotherapy and implantation of cardiac stimulation devices.
Patient monitoring
BENEFICIARIES
Approximately 700 people in the first phase. Of these, 30-40% women and a small percentage (10%) of children less than 15 years: being a chronic disease, development and symptoms appear for the first time from 20 to 25 years.
These beneficiaries are people suffering Chagas who have heart disease and who have or may develop more serious complications (death from cardiac arrhythmias, block or heart failure…).
They are all people who live in the municipality of Santa Cruz de la Sierra in Bolivia.