Nutrition in Northern Greece
We are facing the worst refugee crisis since the Second World War; at present, there are 19.5 million refugees, half of them children. Since the Syrian conflict broke out, Save the Children has been working in the countries of origin, transit and destination in order to provide these children help and guarantee their rights. The current project is being carried out in the north of Greece with the aim of promoting, protecting and supporting emergency feeding practices in babies and small children and, additionally, responding to the nutritional needs of mothers and children aged 0 to 2 years in the Greek refugee camps.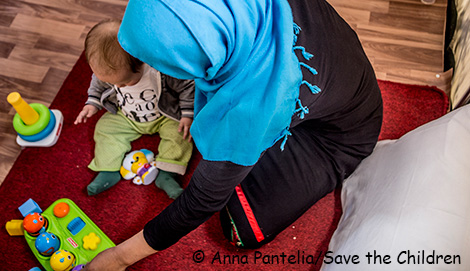 CONTEXT
More than 50,000 people are trapped at the border between Greece and Macedonia which was closed after the agreement between the EU and Turkey. These people are surviving in deficient conditions of hygiene and limited access to basic services. The health situation is alarming: 68.8% of the breast-feeding women have difficulty with lactation due to stress and lack of food; 40% of the children are not fed on a minimum adequate basis; 37.2% of them suffer from diarrhea; and, 13.5% have had a respiratory infection in the previous two weeks.
EXPLANATION OF THE PROJECT
The objective of the project is to promote, protect and support emergency feeding practices in babies and small children in the north of Greece. To do so the following activities will be carried out:
• Start-up and maintenance of Mother Baby Areas so that the mothers and babies can be in a safe space with suitable conditions of hygiene in order that they can receive counseling, practical orientation, and nutritional support.
• Evaluation, support and follow-up of the nutritional status of the mothers and babies by qualified, trained personnel.
• Provision of services for basic mother-child health services and counseling for pregnant women and newborns including referral circuits to local agents.
• Training for involved actors regarding key messages and appropriate behavior for pregnant and breastfeeding women and children aged less than 2 years.
BENEFICIARIES
The project beneficiaries are the babies, children and mothers who attend the various Mother Baby Areas in the different locations that provide services and support to an average of 20 mothers and babies/day (often various times a day). The carers will also benefit from the outreaching activities. Direct beneficiaries: 2,083 children and mothers; indirect beneficiaries: 5,680 people.