Nutrition and health support for children, young people and talibes at the Richard-Toll Solidarity Centre for Education and Sport, in Senegal
The project seeks to give boys and girls and their families enhanced life opportunities, as they face difficult conditions and low incomes not permitting them to adequately meet their daily needs. The project, therefore, aims to offer a complementary nutritional programme for children, young people and talibes.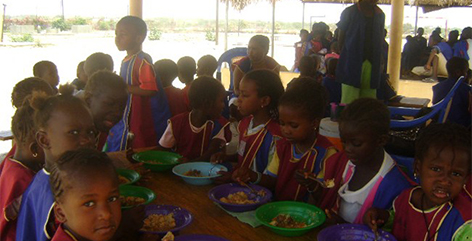 CONTEXT
The town of Richard-Toll is located in the region of Saint-Louis, on the border with Mauritania. Its population has been increasing, going from the 34,000 inhabitants in 1985 to about 127,000 people today. Due to its strategic location, Richard-Toll is a city that attracts many families looking for work.

Its political-sanitary situation is characterised by a population that mostly lives under precarious conditions. In rural areas two out of three people live in poverty. In general their income does not allow them to meet all of their daily health and nutrition needs. Many young people between the ages of 5 and 18 live in extreme poverty, and do not have access to education or health. This is one of the reasons children and young people suffer from diseases such as diarrhoea, urinary schistosomiasis, and skin diseases, among others. Moreover, health services are expensive, and not accessible by all, and there is a shortage of skilled health personnel.

PROJECT
The main objective of the project is to improve access to health for newborns, young people and talibes, particularly with regards to preventing diseases related to a lack of water and hygiene, as well as those related to nutrition.

Through its implementation, we seek to reduce child malnutrition by providing abundant meals, treating pathologies, ensuring children's well-being, and conducting training to raise awareness about reproductive health.

The main activities of the project focus on providing nutrition to residents of the Centro de Solidaridad para la Educación y el Deporte (Solidarity Centre for Education and Sport), as well as distributing the necessary drugs. There will also be a monthly monitoring of the residents, and workshops will be held with the young people's parents to raise awareness regarding health and hygiene issues for the youth's proper development.

BENEFICIARIES
The direct beneficiaries are 289 people (children, adolescents and mothers), of whom 141 are children.

The indirect beneficiaries are the parents of the residents at the centre, and the population in general.