Shared management model for the prevention, diagnosis, research, and treatment of Chagas disease
In Districts 6 and 7 of the Department of Chuquisaca, in the municipality of Sucre, Bolivia a shared management model is going to be applied for the prevention, diagnosis, research, and treatment of Chagas disease.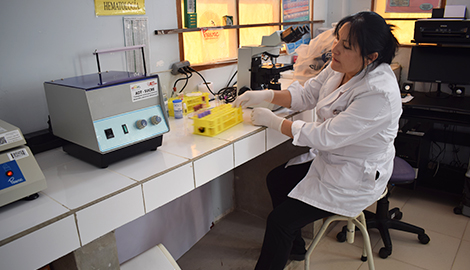 PROJECT
The project's main aim is to reduce the cases of endemic disease in the population of the aforementioned location, through consolidating a shared management model for preventing, diagnosing, researching and treating Chagas disease. In order to do this we will carry out various activities such as:
Providing reagents for supplementary examinations for diagnosing and treating women of fertile age.
Training healthcare personnel on the nutritional management of patients and delivery of nutritional supplements for women.
Providing supplementary equipment to the 6th district's laboratory.
Certification on a basic technical level of the community Vector Information Posts (VIPs) in community entomological surveillance.
Improving housing.
Acquiring fumigation equipment.
Delivering family workshops about healthy lifestyle habits.
Clean up campaigns.
Equipping the comprehensive research centre.
Certification at a basic technical level of officials of the Vector-Borne Disease (VBD) program.
Carrying out research projects within the syllabus of Chagas disease prevention and care for basic technically qualified personnel.

The project will be rolled out over 12 months in order to consolidate the implementation of the community involvement model that has been developed in the area of intervention for entomological surveillance and strengthening local capacity in districts 6 and 7. Completing these activities will provide the following outcomes:
Improve access and adherence to treatment of women of fertile age and children under 15 years of age. It is hoped to increase by at least 5% the access of women of fertile age diagnosed positive with Chagas disease to treatment services and that 80% of women being treated will access nutritional supplements to improve their adherence and the treatment's effectiveness.

Consolidate and institutionalise a community strategy for decreasing the transmission vector and preventing disease. It is hoped that 30 volunteers belonging to the VIP will receive accreditation as basic technicians and that 65 VIPs will be organised and trained to carry out surveillance for, control and prevention of Chagas disease. Furthermore, eight homes will be improved to reduce the vector's presence.

Strengthen the comprehensive research centre and empower it to deliver and disseminate new positive practices in the fight against Chagas disease. It is intended to commence positioning the centre as a benchmark training space at the departmental level, and train laboratory personnel recently joining the centre in diagnostics.
BENEFICIARIES
The direct beneficiaries will be 6,660 people living in districts 6 and 7 of the municipality of Sucre, with emphasis being placed on women aged between 15 and 40 years old.

Indirect beneficiaries would be healthcare personnel working throughout the endemic Chagas disease area in the Department of Chuquisaca.