Medical and nutritional support for the children's shelter La Pouponnière, Dakar, Senegal
La Pouponnière is a provisional shelter for minors aged less than one year and a half who either lost their mothers during pregnancy/delivery or who, due to severe malnutrition, can not be looked after by their families.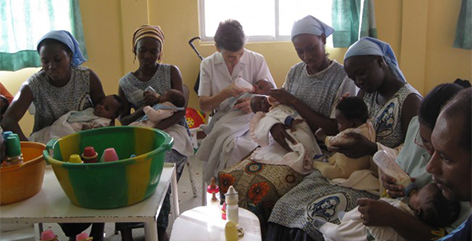 The Franciscan Missionary Brothers, who have been in Dakar since 1948, manage the centre which has a capacity for 100 minors aged from 0 to 1.5 years. Once the minors have reached a good health and nutritional status they are reincorporated into their original family who receive alimentary aid until the child reaches two or three years of age. Only in the case that the child is unclaimed or unrecognised do adoption proceedings commence. Since 1995 La Pouponnière has given shelter to 4,150 children.
The Probitas Foundation helped the centre in 2011 with a medical and nutritional project which included the purchase of essential paediatric medication for the dispensary, and the covering of expenses for hospitalisation, analysis and complementary tests in necessary cases. A paediatrician visits the children three times a week and a nurse looks after them 24 hours a day. Probitas also helped in overseeing that these children were correctly fed and vaccinated.
Financial problems have meant that many people have moved from the southern coastal areas to Dakar, the country's capital. Disadvantaged neighbourhoods and unplanned building have been growing parallel to health problems due to increasing environmental causes, lack of proper waste management and access to drinking water, amongst other factors.
The Franciscan Brothers saw the need in 2004 for auxiliary workers to help with the care of the increasing number of children being accepted by La Pouponnière. As a consequence, in the same year the Training Centre Maria Goretti, which every year educates more than 60 young people from remote and poor rural areas, was founded. Although the majority of these youngsters are initially illiterate, the centre offers them an education that is sufficient for them to find a decent future as auxiliary childcare workers.
The Probitas Foundation financed a total of 60 grants in 2011 for these young people. The courses alternate one week of practical classes (with the babies of La Pouponnière) with one week of theoretical classes. After arriving at the centre the beneficiaries are given literacy classes and, additionally, a medical and nutritional check-up. Later they receive capacity-building sessions in puericulture, basic home economics and hygiene-dietetics amongst others. Once trained they either work in La Pouponnière or find employment as auxiliaries in other centres.