Maintaining the Healthcare Center 'Pet Yiey Chi' in Battambang, Camboya
The SAUCE NGO is carrying out a project in Battambang, Camboya, with the objective of maintaining the Healthcare Center 'Pet Yiey Chi'. The initiative aims to encourage access to healthcare for patients without resources by providing support to the healthcare center which acts a shelter and center of reference for individuals coming from highly vulnerable and marginalized sectors.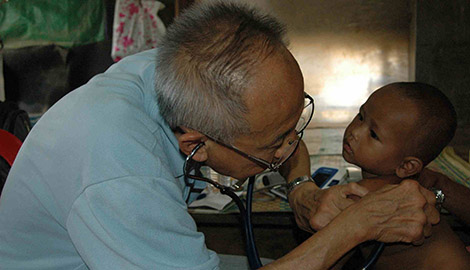 CONTEXT
Cambodia is one of the poorest countries in the world ranking 143 out of 188 according to the Human Development Index. During the regime of the Khmer Rouge (1976-79) more than 1.5 million people died including 90% of the doctors. At present, the population is growing and with the Cambodian Popular Party there is a certain political stability. Nevertheless, the Cambodian healthcare system continues to be limited and there is a considerable number of challenges to be overcome before the country can offer universal quality healthcare free of charge.
PROJECT
The objective of the project is to offer basic healthcare free of charge in the center 'Pet Yiey Chi' to patients without resources and, in determined cases, refer them to reference centers. In addition, it aims to offer shelter, accommodation and sustenance during their post-operative stay and convalescence.
Rehabilitation treatment will be offered (acupuncture, massage and the like) to disabled patients without resources free of charge. Access to dental care will also be provided in the center's installations.
Outside the nucleus of the 'Pet Yiei Chi' Health Center surgical missions will be established to provide access to healthcare in remote villages. Food will be given out on a weekly basis to the inhabitants of the Battambang prison who are severely ill or have no relatives. In addition, physiotherapy and basic healthcare sessions will be held.
Workshops on the prevention of diseases and the promotion of healthy habits will be carried out. They will focus on school children and the inhabitants of remote villages, chronic patients and patients from the healthcare centers. Finally, healthcare personnel will be trained.
BENEFICIARIES
The direct beneficiaries will be those who attend the center, some 11,400 people, out of which 6,000 are women and 2,300 less than 15 years old. In addition, the center will assist the inhabitants of the Battambang prison.