Installing a radiology center in the clinic "Maria Salus Infirmorum" in Kiongwani (Kenya)
The María Salus Infirmorum dispensary was built in 2010-11 in Kiongwani, in the district of Makueni (Kenya), to provide care to the population of the zone lacking health services. The dispensary has been continuously growing and improving and currently requires a radiology center. This service urgently needed as there is no possibility of accessing any other radiology center in under 60 kilometers.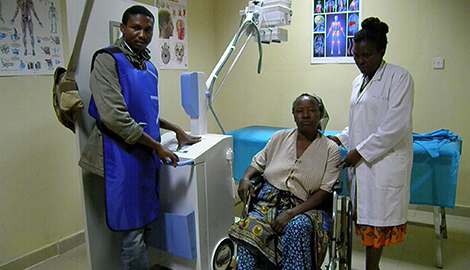 CONTEXT
Kiongwani has approximately 30,000 inhabitants. The nuclear families are made up of an average of 6 to 10 children who represent the largest sector of the population. The settlements are governed by a 'mayor' and a committee; management is semi-autonomous with respect to the central government. At some 30 to 70 kilometers from the settlement is the Maria Salusn dispensary, the only available service as healthcare for most of the population is almost inexistent. In both public and private healthcare it is necessary to pay to be attended.
EXPLANATION OF THE PROJECT
In order to amplify the dispensary with a radiology center it is necessary to first of all provide the space where it will be located (two areas in the same dispensary) with specialized personnel. There will be a window opening and lead shielding installed for all the rooms where radiography is performed. The necessary equipment will be purchased in Nairobi, after its installation training in its use and handling will be provided for the personnel of the dispensary.
The objective of this project is to improve the quality of healthcare for the population of Kiongwani and its surroundings. Specifically, it will aim to diagnosis with the greatest accuracy possible the pathologies that require radiological imaging. It is therefore expected that 100% of the patients who come to the dispensary and require radiology for diagnosis will be attended. To achieve this, the necessary equipment will be installed and personnel trained.
BENEFICIARIES
The direct beneficiaries of this project are some 30,000 people. The most numerous population that come to the dispensary are women (due to the fact that the men are absent as they have to look for work in Nairobi), children and adolescents from the schools of Kiongwani and its surroundings.