Installation of Equipment for the Orthopaedic and Anaesthetic Surgical Services at the Clinic-Home of San Juan de Dios in Chiclayo
Disability, either congenital or acquired, has a high prevalence in the Department of Lambeyeque in Chiclayo. In Peru the national average is 12.9 per 1,000 inhabitants; Lambeyeque, with 9.4 per 1,000 inhabitants, has one of the highest disability figures in the country. It is calculated that approximately 25,400 families live in the Department and that at least one of the family members has some type of physical or psychical disability which prevents them from leading a normal life.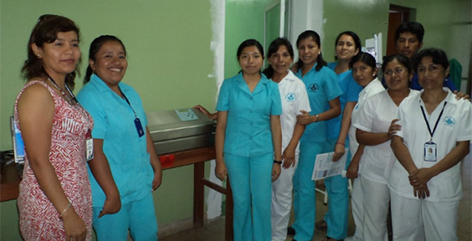 The San Juan de Dios Clinic in Chiclayo is a non-profit health medical institution belonging to the Hospitaller Order of San Juan de Dios. Founded in August 1982 its objective is to help children suffering from paralysis and with locomotor and orthopaedic apparatus problems, whether congenital or acquired. The beneficiaries are young people who come from either rural or marginalised urban areas where there is a lack of access to basic services such as light, water and sanitation.
In 2011 the Probitas Foundation provided equipment for the infantile traumatological and orthopaedic operating theatre and also for the clinic's anaesthetic service. The objective of this Project is to improve the care and quality of the surgical interventions that are carried out. Installation of the equipment has signified an increase in the resolutive capacity and performance of the operating theatres and, in turn, greater complexity of the surgical interventions performed at the clinic.
The proposition of the centre is to become in a few years a highly complex clinical and surgical paediatric hospital of reference in the northeast of Peru. It is, therefore, expected that the number of patients annually treated will grow from 3,000 to 9,000. The reinforcement that Probitas carried out consisted of an anaesthetic installation to improve the monitoring of the children during the intervention; an ethylene oxide sterilizer to make the anaesthesia safer for the patients attended; and a volumetric infusion pump and pneumatic perforator to aid traumatological and orthopaedic interventions.