Infants del Món Camboya educational project
The Infants del Món foundation, in collaboration with Infants del Món Andorra and the Elser Foundation are launching a project to provide children and young people from families with very limited resources in the rural community of Rohal with education, nutrition and health care, in an effort to improve their quality of life. The project will be carried out in the rural area of Salachhes, in the City of Rohal, District of Preah Net Preah, Beanteay Meanchey Province, in the northwest of the country, 60 km from the border with Thailand.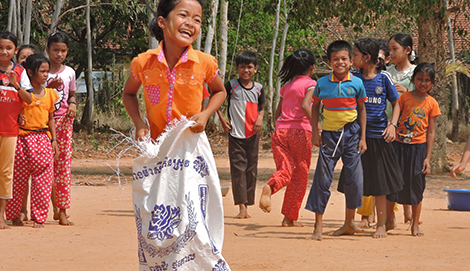 CONTEXT
40% of the population lives on the poverty line. 50% are young people under the age of 15, whom families use as economic resources, subjecting them to various forms of child exploitation. 7 out of 10 children do not complete secondary school. Rural areas, which represent 75% of the population, are the most affected. Their inhabitants do not have access to potable water and sanitation, and education is weak.

With regards to health, only those with financial resources can afford it, and there is a lack of infrastructure and medical personnel. In Siem Reap, 80 km from the community, there are two free children's hospitals.

PROJECT
The project aims to raise awareness and support families so that their children remain in school, and to bolster public education. To achieve this there will be complementary classes given to students between the ages of 5 and 22, and extracurricular activities for elementary students.

During the school holidays personal development activities and workshops will be organised, as well as orientation days for high school students, and the awarding of scholarships for vocational training and university studies.

There will also be informative and training events held with the families of the students to raise awareness of the importance of education and the development of habits related to personal hygiene, nutrition and environmental responsibility.

Finally, there will be a selection and monitoring of families receiving social support through the project to detect needs and evaluate the impact of the project on students and families. And there will be training workshops for social and educational actors to refine their capacities and strengthen the community's social fabric.

BENEFICIARIES
The direct beneficiaries of the project are 678 children and young people and 401 girls and youth under 22 years old, and students in the city of Rohal who receive support – from the primary level, to vocational training, to the university. Also benefitting are the social and educational agents linked to community development, through educational workshops.

With reference to indirect beneficiaries, these are 300 families who, because of their socio-economic situations, cannot meet the basic needs of their children and/or pay for private reinforcement classes to keep up with the public school program.

The total beneficiaries are 2,183 families, about 9,201 inhabitants of Rohal.