Improving the quality of life of people living with infectious diseases especially HIV / AIDS and tuberculosis registered in the Hospital of Infectious Diseases Bathalapalli, Andhra Pradesh, India
The Vicente Ferrer Foundation (VFF) is carrying out a project in the state of Andra Pradesh in India. Its aim is to improve the quality of life of patients with infectious disease, mainly HIV/AIDS and tuberculosis, who are registered at the Hospital for Infectious Diseases at Bathapalli. The project will accomplish its objectives through the acquisition of equipment and hospital supplies and the distribution of nutritional supplements to improve the patients' lives.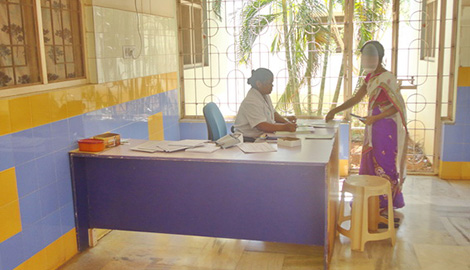 CONTEXT
HIV in India has a prevalence of 0.3% which is relatively low when compared with other middle-income countries according to the World Bank classification. Nevertheless, absolute figures reveal that more than 2.1 million people are infected which makes India the third country in the world with the largest number of cases.
Andhra Pradesh, where the VFF is located, is the state in India with the greatest number of HIV/AIDS infected people. From 1991 the Foundation has developed a program of treatment and attention for patients who are seropositive and infected with HIV/AIDS. In 2006 the Hospital for Infectious Diseases started to function and is recognized by the Indian government as a center of reference in the state.
PROJECT
The healthcare project, which provides support to people with infectious diseases, aims to improve the quality of life of people with HIV/AIDS and other infectious disease, through assistance based on the needs of the patients and support for them and their families.
The main activities to be developed include, on one hand, the identification, follow-up and control of the patients through a participative community program; the acquisition of medical supplies and nutritional products through a nutritional program; the register of new cases of infectious diseases; assessment and education in prevention to raise awareness in the patients and ensure adherence to anti-retroviral treatment; outpatient care; the performance of diagnostic studies; capacity-building for the personnel of the community healthcare team and members of the community development center; and, finally, workshops to raise awareness in the general community.
BENEFICIARIES
The direct beneficiaries of the project are the patients registered at the Infectious Diseases Hospital: 5,900 are hospitalized and 63,000 are outpatients which include pregnant women, people receiving anti-retroviral treatment and 2,000 individuals participating in the Nutritional program. The indirect beneficiaries are seropositive widows (240 women); members of the Community Development Center (1,240 people); VFF healthcare personnel (92 professionals); and members of the community (World AIDS Day, 1,700 people).