Improving medical care for mothers and children in Mali
The project aims to improve maternal and child health in Mali through the computerisation of health centres in the regions of Kayes, Koulikoro, Sikasso, Ségou and Mopti. The objective is to facilitate the use of new Information and Communication Technologies (ICT) in order to organise, guarantee and bolster the health information systems at Community Health Centres (CHC) and support the on-going training of health care teams at 13 CHCs.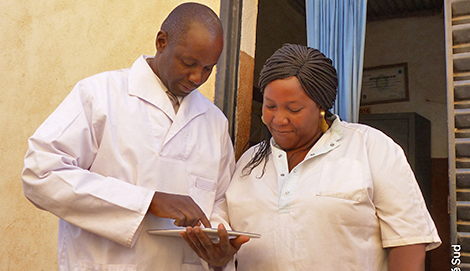 CONTEXT
In Mali, more than 1,000 CHCs provide primary level care for the country's health system. Within a radius of 15 km, CHCs offer individual and collective health assistance benefitting 10,000 to 15,000 people in the different towns that make up the health area.

The lack of registration of individual patients impedes comprehensive and coordinated medical monitoring. This fragmented care affects the quality of people's health.

PROJECT
The DATASANTE MALI initiative aims to establish an individual medical history for each patient through ICTs at 13 CHCs in the regions of Kayes, Koulikoro, Sikasso, Ségou and Mopti, in order to be able to follow up on each patient individually (the history of diagnoses and prescribed treatments, etc.) with quantitative data and differentiated information.

This will allow for the comprehensive management of acute diseases, in addition to time savings for professionals with regards to information processing and patient care. This should, among other things, reduce maternal and infant mortality by improving the observation of the perinatal consultation calendar, scheduled vaccinations and the growth of children ages 0-5.

The system allows health professionals to access continuing education and communication with the medical community to improve the quality of care. Through awareness, this project also facilitates the information and communication required for behavioural change with regards to nutrition and reproductive health, and for improvements in the early use of health services.

BENEFICIARIES
The target groups for the action are the 13 CHCs and their health teams (doctors, midwives, nurses and other paramedics), and a general medical community made up of about 90 health professionals.

The ultimate beneficiaries are the rural populations served by 13 CHCs, with between 10,000 and 15,000 people per CSC. Also benefitting will be some 162,500 people who may visit CHCs, including women of childbearing age (56% of the rural population concerned), pregnant women (4% of the population) and children under 5 years old (6% of the rural population).