Improves access to sexual and reproductive health for women in El Salvador
The purpose of the Asamblea de Cooperación por la Paz (Assembly of Cooperation for Peace) is to improve the conditions of access to comprehensive sexual and reproductive health, with a human rights-based approach to health and gender in 10 communities in the municipality of Mejicanos, in the Department of San Salvador (El Salvador).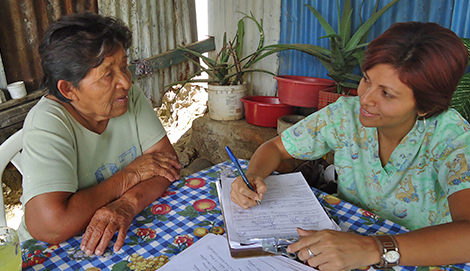 CONTEXT
El Salvador registers some 9,000 cases of cancer annually. Incidence, prevalence and mortality rates are highest among women. The most prevalent cancers among Salvadorans are cervical cancer, at 24.8%; breast cancer, at 23.7%; and uterine cancer, at 16.3%.

The Ministry of Health of El Salvador (MINSAL) is implementing programs to fight cervical, uterine and breast cancer, but these are insufficient, as they do not promote cytology and mammography campaigns. The data from previous actions indicate that 85% of the women treated were diagnosed with some type of problem; in 4% of cases, cancer.

PROJECT
With the objective of contributing to improved access to basic sexual and reproductive health services, using a comprehensive approach, the project's actions include developing five training processes in the municipality of Mejicanos, carrying out 600 cytologies and 350 mammograms for women from the beneficiary communities, performing complementary examinations and treatment prescriptions, and carrying out patient care quality control exercises, among other actions.

The project also aims to contribute to having a community impact on the human right to health for 8,897 women and adolescent girls in 10 communities in the municipality of Mejicanos. To achieve this, 30 community leaders will be trained and coordinate as a network of health promoters, whose main objective will be to raise awareness among women and girls in their respective communities about the importance of sexual and reproductive health.

BENEFICIARIES
The direct beneficiaries are 770 people, of whom 570 are women, inhabitants of the municipality of Mejicanos, featuring low or very low socioeconomic profiles, lacking in resources and, for the most part, with limited educations. They will benefit from the diagnostic tests performed and, when necessary, also from the complementary treatments required.

The indirect beneficiaries are 16,724 people, of whom 8,897 are women in the 10 communities in which the project will be implemented, and who will benefit from awareness-raising activities on the importance of sexual and reproductive health, to be carried out by community health promoters.