Improved access to water and sanitation and practices for improved maternal and child nutrition in families on tea plantations in Sri Lanka.
The Save the Children project aims to improve the living conditions and health status of mothers and children under the age of 5 on tea plantations in the Rathnapura district.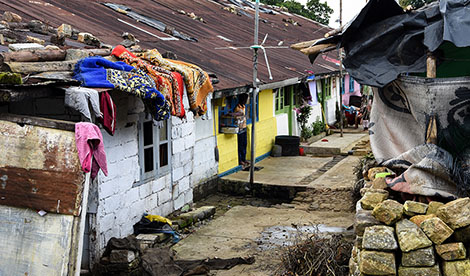 CONTEXT
The population of Sri Lanka is 20.48 million, one third of which is made up of women and children. Of the total population, 1.5 million live on tea plantations.

Sri Lanka stands at 73rd on the Human Development Index ranking (2016) Although there has been improvement in this area, its education, health and child protection systems still suffer from the challenges of a low-income country. At the health level, nutrition indicators, especially amongst women and children on tea plantations, are worrying.

PROJECT
The project aims to improve access to water and sanitation, as well as practices for better maternal and child nutrition amongst families on tea plantations in Sri Lanka. To this end, work will be done on different fronts:
The improvement of water and sanitation facilities, including the installation and repair of latrines and water supply facilities to reduce cases of anaemia. Observance of Save the Children's child protection policy will be ensured, as will the adaptation of these facilities to meet children's needs. The beneficiaries themselves will contribute by performing excavation working and transporting material.
Improvement of the quality of the sanitary facilities to ensure that women and children can receive effective treatment.
The execution of community awareness campaigns on the importance of nutrition, so as to boost mothers' knowledge of practices to improve child nutrition.
BENEFICIARIES
The beneficiaries are 65 families (273 people, taking into account that the average size per family nucleus is 4.2), vulnerable residents of tea plantations, of the Tamil ethnicity, from British colonial India. At the end of the project beneficiary households will enjoy a family latrine.