Humanitarian aid to Haiti following the earthquake and later outbreaks of cholera
On the 12th of January, 2010, a strong earthquake, 7.3 on the Richter Scale, affected Haiti, one of the poorest countries on the American Continent, causing alarm in the Caribbean. The brusque movement of the earth led to a large number of mortal victims in Puerto Principe, the country's capital, and considerable material damage. The earthquake was the strongest ever registered on the island since 1946. Many of those who managed to survive still suffer physical and psychological sequelae. The scars from the disaster can be seen in the streets where ruins and half-destroyed buildings pile up.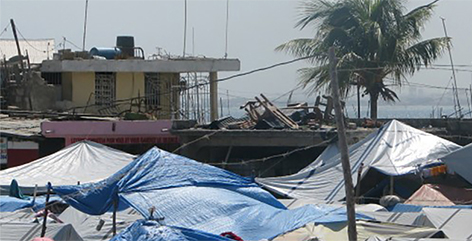 Faced with the disappearance of many of the country's health infrastructures the Probitas Foundation approved an urgent medical aid plan. As an immediate step a delivery worth 94,000 euros was sent by sea. It contained glucosamine, glucosaline, physiological serum and Ringer's lactate, solutions which are all indicated for the treatment of dehydration. The delivery was managed by the Spanish Red Cross.
Towards the end of 2010 a severe cholera epidemic affected the country with more than 500,000 cases. Through the Spanish Agency for International Co-operation and Development (AECID) Probitas sent a second planeload of 1,560 kilos of serum to help alleviate dehydration and improve the prognosis of many patients suffering from cholera.
The third phase was carried out through the Red Cross with a first planeload of 13,690 units of Ringer's lactate. At the same time the Foundation sent a total of six containers (144,000 units of serum) by sea: three containers for Haiti and three for the Dominican Republic. In addition, 24,000 euros were destined for blood storage bags.
At present, thousands of displaced people still live in precarious conditions in improvised camps. Lack of access to drinking water and sanitation continue to affect all the country, particularly in remote rural areas. This considerably increases the risk of infectious diseases being spread.