Health protection: access to drinking water and sanitation for Sudanese refugees in Chad
Improving the living conditions of the Sudanese refugee population is one of the cornerstones of the project that UNHCR, together with the Asturian Agency for Development Cooperation, will carry out in the camps at Farchana, Treguine, Bredjing and Gaga, located in the Region of Oyaddaï and in the areas of the camps at Djabal and Goz Amir in the region of Sila, in eastern Chad.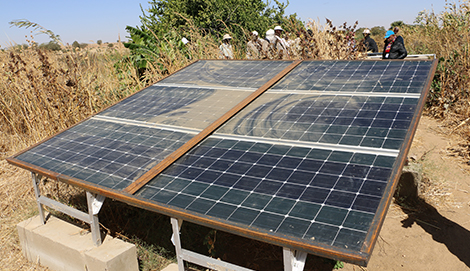 CONTEXT
The protracted Sudanese civil war, waged since February of 2003, continues to have dire consequences in the Darfur region, giving rise to a refugee crisis in eastern Chad. The Sudanese refugee population living in the camps of Djabal, Goz Amir, Farchana, Treguine, Bredjing and Gaga is comprised of 92,758 women and 77,968 men. 57% of residents are under age 18. In the adult age segment, the number of women in all of them almost doubles that of men.

The socio-political and health situation is dire: the average person in the eastern camps has access to some 17 litres of water per day, when the minimum humanitarian standard is considered to be 20. The incidence rates of watery diarrhoea in children under age 5 in the 6 camps are: Bredjing, 16%; Treguine, 14%; Farchana, 22%; Gaga, 17%; Djabal, 13%; and Goz Amir, 18%.

PROJECT
The main aims of the project are to improve the living conditions for the Sudanese refugee population and to provide continuous access to drinking water and adequate sanitation services for 170,726 Sudanese refugees, in accordance with international standards.

This goal is pursued through the maintenance and repair of existing water distribution networks in the camps where the project is being implemented, and through the installation of submersible hand pumps for surface water wells. It is also pursued through the construction and/or revamping of sanitation infrastructures at the 6 camps where the project is active, and by mobilising the community to practice sound water management, and educating it about its availability, potability, and hygiene, these being some of the key points addressed.

BENEFICIARIES
The direct beneficiaries are 170,726 Sudanese refugees residing in the camps at Djabal, Goz Amir, Farchana, Treguine, Bredjing and Gaga.

The indirect beneficiaries are the 4,000 people from the local host communities.