Health for children and mothers in Patepluma: maternal and child health care in rural villages of Santa Bárbara, Honduras
The Fundación Comparte, together with the local Hibueras Cultural Centre of Santa Bárbara, in Honduras, are launching a project to guarantee access to health care, especially maternal and child care, to improve the quality of life for people in the villages of San Manuel, San Isidro del Pacayal and Arada, in Santa Bárbara, Honduras.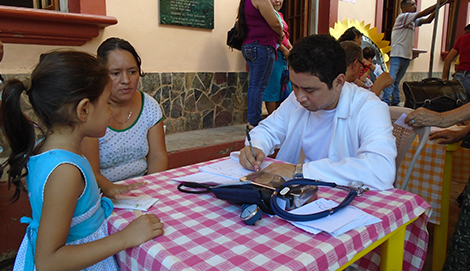 CONTEXT
In Honduras there is an almost total absence of medical care in rural areas, and the resources allocated to the public system (hospitals, doctors and medicines) are limited. For this reason, the creation of community Primary Health Care (PHC) centres has been ordered. These are community-based health management centres as an alternative to the absence of any medical service.

It is necessary to increase the number of health centres in rural areas, such as San Manuel, invest in the implementation of a clinical laboratory to improve the diagnosis of patients, and establish a network of pharmaceutical assistance to ensure the availability of appropriate treatments and reduced prices.

PROJECT
With the objective of providing a basic health infrastructure for maternal and child care, and clinical diagnosis in three rural villages in Santa Barbara, the project's actions focus on building health infrastructure and guaranteeing the outfitting of the primary health care centre in the village of San Manuel. Plants also call for a clinical laboratory in the village of Arada, and equipment at the Primary Health Care centre in the village of San Isidro.

There will also be training activities for medical personnel and local health workers to promote steps towards preventive health and healthy eating, as well as a health awareness campaign for the entire population.

BENEFICIARIES
The direct beneficiaries of the project are 6,863 people. 80% are women and 48% are boys and girls. They lack health services and specialised care (paediatrics, maternal and child health), causing inequality in access to health, thereby exacerbating the situation of poverty.

The indirect beneficiaries are 1,750 families and the rural population, who will receive enhanced medical and health services thanks to improved access to health services for mothers and children.