Growing together
Managing to implement a model of primary health care is one of the objectives pursued by the Madre Herlinda Foundation, together with the collaborating entity Adveniat, Corregimiento de Pasacaballo, Department of Bolivar, Colombia.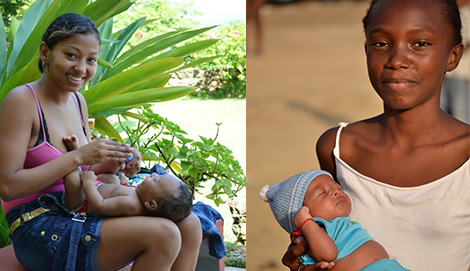 CONTEXT
The Corregimiento of Pasacaballos is an area belonging to the District of Cartagena de Indias, in the Department of Bolivar, Colombia. It is geographically separated from the urban centre of the city by an industrial zone stretching for 15 kilometres. The community of Pasacaballos has an approximate population of 17,000, more than 90% of which is of African descent. Due to its geographical location, it harbours a large number of displaced persons, victims of the Colombian armed conflict.

According to the Ministry of Health, 19.5% of young Colombian women between the ages of 14 and 19 are mothers, especially in populations with a high rate of poverty and vulnerability, where the numbers of juvenile pregnancies are alarming, reaching 30%.

PROJECT
The project has several objectives, such as providing medical care during pregnancy and between the first 3 and 6 months of maternity, managing and formalising alliances that favour the establishment of networks of maternal services, and preventing teenage pregnancies through a educational program in sexual and reproductive rights and duties.

Some of the actions that will be carried out are medical care and prenatal controls for risk identification, postpartum care, primary health care workshops, and advocacy and prevention brigades. Micronutrients will also be supplied to pregnant teenagers and newborns, and babies will be monitored during their growth and development.

BENEFICIARIES
The direct beneficiaries are 440 people, of whom 270 are boys and girls under 15 years of age. The indirect beneficiaries are 420 families, and the community of Pasacaballos in general.