Sickle cell disease. An early diagnosis that saves lives.
This project aims to diagnose sickle cell disease in at least 1000 people in the surroundings of the three participating centers, located in the towns of Abidjan and Yamoussoukro (Ivory Coast). Similarly, it seeks to train health staff and investigate in the field of this disease.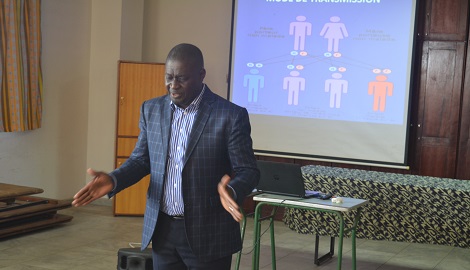 CONTEXT
Sociodemographic data:
The population rate with sickle cell disease in the country is 14%. 85% -90% of pregnant women do not take the test, while between 6,000-8,000 newborns each year have the disease and 40% die before reaching five years of age.
Socio-political and health situation:
In Ivory Coast health care is not guaranteed by the State.The lack of infrastructure, qualified health personnel and the long distances to reach any service in rural areas make it difficult for the population to access health services in a complete and affordable way.
PROJECT
Goals:
The primary objectives are the diagnosis of sickle cell disease among the population in the environment of the three centers participating in the project, and training and research in the field of this disease.

Summary of project activities:
- Purchase of an electrophoresis equipment (equipment that allows the separation of DNA, proteins or molecules based on their size and electrical charge and which in many cases is used for diagnostic tests).
- Promotion of the diagnosis campaign.
- Reception of patients in each center.
- Taking blood samples.
- Laboratory analysis using the electrophoresis apparatus.
- Training of technical personnel.
- Preparation of the thesis.

Expected results:

Among the results is screening at least 1,000 people to detect the disease and equipping the Ange Gardien center with an electrophoresis device to carry out the tests.

At the end of the project, have sensitized the population to the importance of having diagnostic tests, especially for couples in the process of getting married as well as pregnant women, in addition to having advised individuals suffering from the disease.

Upon completion of the project, 10 people from the health care centers will be trained in sickle cell disease. In addition, a thesis based on the study of sickle cell disease will be carried out by a student from one of the two medical schools in Abidjan.
BENEFICIARIES
Direct beneficiaries:
In total 1010. The 1000 people to be screened, and the 10 technicians who must be trained.
Indirect beneficiaries:
For the screening campaign: 4,250.
For the purchase of the electrophoresis device: 44,000
The beneficiary population around the Ange Gardien health center (destination of the electrophoresis device), considered within a radius of 3km.
For the training of health personnel: 100,000. Once the health staff is trained, the entire population in the surroundings of the centers is considered as an indirect beneficiary population.