Reduce neglected tropical diseases using a community intervention model, in Tegucigalpa, Honduras
Fundación del Valle and Asociación Colaboración y Esfuerzo (ACOES) are carrying out a project in Nueva Capital, in the Tegucigalpa area of Honduras, with the aim of reducing the incidence of the neglected tropical diseases with the greatest impact in this region, using a community-based intervention model.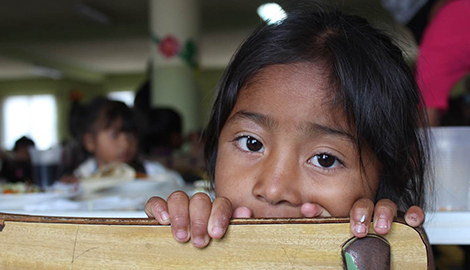 CONTEXT
The project is been carried out in the marginal zone of Nueva Capital in Tegucigalpa, an area located on the slope of a very steep mountain very far from the metropolis. The total population ascends to 40,000 inhabitants (30% of them being minors).

The intervention area's socio-economic indicators show that there is no educational infrastructure, except for a network of four free schools belonging to ACOES with 4,500 students.

There is substandard housing made of sheet metal, cardboard, or wood, there are families of 6-8 members, where children are regarded as a source of income. Family violence is commonplace as are gender and child abuse. Average earnings are less than €2-4 per day and there are no sources of employment in the area.

In Nueva Capital there is no public health service except ACOES's health project strengthened by the intervention of Probitas.
At a local level, the health situation is poor due to the lack of health care over many years. There are chronic diseases, severe malnutrition problems, disease outbreaks, and a severe shortage of health education among other things.


At the state level Honduras has the fourth lowest health budget in America, the fourth highest rate of infant mortality and chronic malnutrition in America and holds the third place in mortality rates from common diseases, according to the Pan American Health Organization.


There is an absence of public health centres, except for the infrastructure developed by ACOES and supported by Probitas.


To reach a public hospital, it is necessary to take three buses at a cost that represents one or two days' wages and it takes three to four hours to get there. Hospitals are at 200% of their approximate capacity and do not have sufficient material or medicine.


Access to health systems remains deficient for the general population: 46.6% of rural communities lack health centres or medical teams.

PROJECT
FDV ACOES propose a multidisciplinary community intervention model based on WHO theoretical models and the Strategic Plan of the Secretariat of Health of Honduras which can be established as a benchmark for use elsewhere in the country and Central America. The project's strategy will focus on five lines of work:

1) Community health
a. Community-based prevention.
b. Intervening in particularly vulnerable groups.

2) Child health
a. Strengthening the health of students and health education.
b. Providing health care.

3) Public health
a. Causing a knock-on effect on nearby Health Centres, the Ministry of Health and the Faculty of Medicine of the New Public University of Honduras and on the implementation of the National Strategic Plan in Nueva Capital.

4) Veterinary health
a. Involve specialists in veterinary health in the design and implementation of the community intervention model in the care and hygiene of animals in the home.

5) Multidisciplinary intervention
a. The project will benefit from the intervention of professionals from different areas of health and social care to ensure a cultural improvement in health and prevention (dentistry, psychology, nutrition and social work, among other things).

BENEFICIARIES
The number of direct beneficiaries is 8,056 people, of whom 52% are women and another 48% men. They were originally victims of Hurricane Mitch, and, in recent years, immigrants from rural areas in extreme poverty.

The indirect beneficiaries are 20,280 people from the general population from the rest of the settlement, as the project will contribute to improving the health system.