Follow-up of severe infantile malnutrition in HIV (+) mothers and children in Mekelle, in the region of Trigay (Phase II), Ethiopa
In 2011, Ethiopia once again found itself caught up in the cyclical torment of the alimentation crisis. Whilst in some countries the impact of drought can be mitigated, the lack of international political interest in a region as geo-strategically important as the Horn of Africa impedes measures being adopted to prevent these kinds of catastrophes. The project supported by the Probitas Foundation is rightly preventive. It is being carried out in Trigay, a region lying next to Eritrea, which has one of the highest rates of infantile and maternal mortality in the world.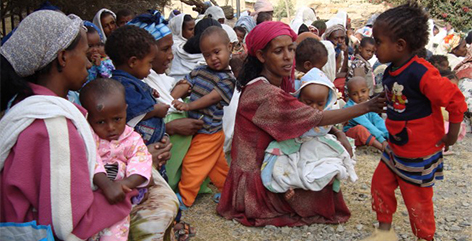 The nutritional follow-up programme which África Viva is developing together with the Daughters of Charity, an entity that received the Príncipe of Austurias Prize in 2005, has as its objective the improvement of health and quality of life of the people who are most vulnerable in a situation of alimentation crisis, in particular HIV(+) women and children.
In the state of Trigay, 90% of the population is rural and survives on subsistence agriculture. Drought, the increasing prices of food, unfair commercial legislation and land grabbing have made the economic situation even worse in a region already suffering from a lack of infrastructures, low agricultural productivity, overpopulation and limited income which impede access to medical services. The principle health problems in Trigay are malaria, HIV, tuberculosis, and severe and chronic denutrition. The medical network is very precarious with one unit for every 15,000 inhabitants.
The Adihaki Clinic, managed by the Daughters of Charity, offers medical assistance and complementary alimentation to the poorest families in the area. In fact, it is carrying out the nutritional follow-up of 1,500 children aged between 0 and 5 years and 2,500 women, including HIV(+) carriers. In addition, approximately 1,900 children receive health care in this centre. África Viva has the following objectives: 1) improve the diagnosis and prevention of denutrition; 2) offer health education to the mothers and local medical workers with respect to infantile denutrition; and 3) facilitate access to community health care.
Malnutrition, apart from being in itself a cause of death, is also a significant aggravating factor for most diseases that lead to infantile mortality. For this reason, the correct diagnosis and treatment of denutrition has an impact not only on the weight and height of the child, but also on the prevention and improvement of the prognosis of many diseases that affect the African continent.
With the proposition of improving access to primary care, the África Viva project is reinforcing the clinic with equipment, medical material and medication. In addition, it is considering the adoption of protocols for the treatment of infantile malnutrition, home follow-ups for its prevention, and the guarantee of availability of essential treatment for malnutrition in order to improve the children's evolution and decrease the rate of mortality, relapse and children being abanandoned.