Implementation of molecular biology techniques for the early diagnosis of syphilis and congenital Chagas disease
In Argentina, about 1500 boys and girls with congenital Chagas (ChC) are born each year. Currently only a third is diagnosed. This underdiagnosis is probably due to the lack of a rapid and sensitive method of diagnosis and to the failure to monitor newborn infants with negative parasitaemia.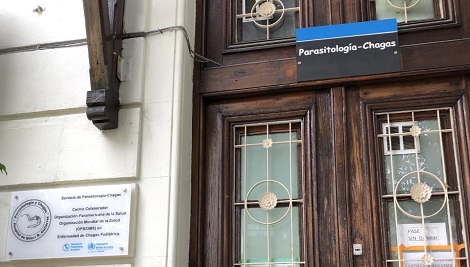 CONTEXT
The survey in 2006 of PAHO in Argentina has estimated a global prevalence of Chagas in pregnant women of 4%, with the Gran Chaco area (Provinces of Santiago del Estero and Chaco) being the one with the highest prevalence (9-12%) . However, due to migratory phenomena, the highest number of those infected is found in large urban centers (Buenos Aires, Mendoza). In Argentina, the annual birth of about 1500 boys and girls with congenital Chagas (ChC) is calculated. Currently only a third is diagnosed and as an example, congenital cases have not been reported in Santiago del Estero in the last 5 years. This underdiagnosis is probably due to the lack of a rapid and sensitive method of diagnosis and to the failure to monitor newborn infants with negative parasitaemia.
Regarding congenital syphilis (SiC), a 2014 WHO / PAHO analysis reported a rate of 1.32 cases per 1,000 live births in Argentina (approximately 1,000 affected newborns per year.) In turn, the Ministry of Health of The Nation in 2018 registered a sustained increase in new cases in the last 5 years, estimating a prevalence of 3.24% of syphilis in pregnant women. To this are added faults in the controls of the pregnant woman and in the follow-up of her newborns (only 40.18% of pregnant women and 10.7% of those born to mothers with positive serology for syphilis were adequately studied in 2017).
The project will be developed in hospitals belonging to the PEDCHAGAS Network that have a framework for action in the program areas of the following provinces: In a first stage the following centers will be incorporated: Children's Hospital Ricardo Gutiérrez, Cosme Argerich Hospital and Durand Hospital of Buenos Aires and Luis C Lagomaggiore Hospital in Mendoza.
PROJECT
General objective:
Improve the diagnosis of Congenital Chagas (ChC) and Congenital Syphilis (SiC) by training and transferring molecular biology methodology and training the local health team to improve the diagnosis and treatment of these diseases in areas of high prevalence
• Specific objectives:
1) Develop and validate the use of a PCRq assay for the diagnosis of ChC and SiC.
2) Know the burden of disease of these infections in vulnerable population attended in public centers to then train the health team and thus provide the population with the best therapeutic and diagnostic options.
• Expected results:
1. Increase the diagnostic sensitivity for both infections, avoiding long follow-up periods and identifying infected patients early, improving their diagnosis and treatment, reducing health costs.2. Demonstrate that negativization of parasitaemia and treponemia measured by qPCR is an early marker of therapeutic response.3. Know the real burden of disease of these infections, adapting the resources available in the health system4. Train health personnel (laboratory technicians, biochemists, doctors, health agents) who assist the study population
• Summary of project activities
Training (doctors of the first level of care, nurses, health agents, etc.) in taking samples according to guidelines of good clinical and laboratory practice and in the algorithms for the diagnosis and treatment of ChC and SiC
Equipment of participating centers (computer and refrigerator with frezeer). Recruitment of patients in the different centersCarrying out and evaluating qPCR tests for syphilis and Chagas in clinical samples
Hold regular meetings with the participating centers aimed at evaluating the progress of the project (number of patients being followed up in each center, compliance with the rules of good practice) athenaeums and talks aimed at solving and managing problems
Transfer of protocols and quality control systems to the participating healthcare services and other institutions and the carrying out of an update session through the Argentine Society of Pediatry
Statistical analysis to compare qPCR versus diagnostic methods currently applied according to national standards (ChC: parasitaemia and / or serology at 9 months, SiC: serology) and to assess the burden of disease.
Estimate the prevalence of Chagas / Syphilis in pregnant women assisted by serological study.
BENEFICIARIES
• Direct beneficiaries:
Population of pairs (mother-son / daughter) with Chagas and / or Syphilis treated in maternity wards and health centers that make up the PEDCHAGAS network, belonging to areas of high endemicity and the majority in situations of social / economic and health vulnerability. From these, 507 pairs will be selected on whose samples the qPCR validation tests will be performed.
Health personnel from the participating centers who will receive training in the diagnosis, treatment and monitoring of Chagas and congenital syphilis
• Indirect beneficiaries:
Survivors, sexual partners and direct relatives of the pairs with potentially communicable diseases from person to person in relation to interrupting or treating the infection early. Future children of girls diagnosed and treated during this project.
Health promotion agents, members of the entities included in the multiplier effect of the training provided in this study.