Reduce the incidence of malaria in Nicaragua
Farmamundi is a non-profit organisation specialising in providing pharmaceutical supplies and aid to developing countries and humanitarian organisations. Currently, it is running a project in the municipality of Rosita, Nicaragua, with the aim of reducing morbidity and mortality due to malaria in the vulnerable communities in the area.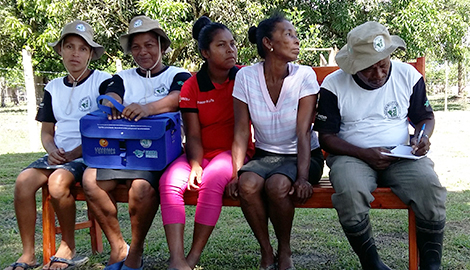 CONTEXT
The municipality of Rosita is located in the Centre of the Autonomous Region of Costa Caribe Norte in Nicaragua, 392 km from the capital to the north-west. It has a total of 112 communities and 13 neighbourhoods. It is a multi-ethnic municipality inhabited mainly by members of the Sumu-Mayagna and Miskito communities and people of mixed ethnicity. Their main survival activities are agriculture and what is left of artisanal mining. The municipality of Rosita ranks sixth (out of 153) among the poorest municipalities of Nicaragua.

PROJECT
The project focuses on strengthening institutional and community capacity to allow for the implementation of a malaria prevention and control plan, multisectoral in nature to optimise resources and enhance effectiveness. It also covers supplementary actions between institutional and community networks.

The project area is located in 24 communities in two territories for which the municipality of Rosita is the responsible healthcare provider. They are characterised by high levels of poverty, together with development indicators falling below the national average. The activities will be carried out over the 18 months of the project's duration and are as follows:
Developing an epidemiological baseline in the municipality of Rosita
Providing basic epidemiology supplies to the municipal health unit
Training institutional personnel in the epidemiological and clinical management of malaria
Institutional follow-up of the work of detecting, referring, attending to and following up cases of malaria
Training Voluntary Partners from the community network
A conference on environmental sanitation and disposing of mosquito reservoirs
Equipping Voluntary Partners with supplies for the fight against malaria
Coordination and analysis meetings of Communal Information System outcomes between health authorities and the community network
Preparing and updating educational and promotional material
Rolling out a prevention and education campaign on malaria and safe water directed at the population
Promoting education and health and preventing malaria in schools
INDICATORS
The number of direct beneficiaries is 9,872 people, of whom 6, 304 are women and further 2,154 are under 15 years of age.