Donation of medication for the Mental Health Centre San Pedro de Sula
Faced with the country's lack of resources to help its inhabitants the Mental Health Centre at Sula, Honduras, provides aid within the area of mental health. The Centre was built at the request of the Honduran Church because mental health patients were being attended in filthy and neglected conditions. Moreover, the treatment they received had nothing to do with modern psychiatry.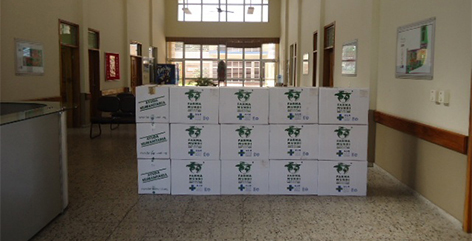 The huge demand for sanitary assistance in the area of San Pedro Sula is due to the multiple factors affecting the population: economical instability, poverty, violence, robbery and so on which can cause an imbalance in the individual's personality and may eventually lead to serious psychiatric problems which require professional intervention.
Aid from the Foundation consisted in funding the medication needed for 2011 which came to 70,526 euros. Choice of the most appropriate medication for the necessary treatment and shipping was carried out in collaboration with Farmamundi. The list of pharmaceutical products was studied and evaluated by psychiatric staff employed by the Mental Health Section of the Parc Sanitari Sant Joan de Déu at Sant Boi de Llobregat.