Comprehensive preventive healthcare system and accessible treatment for people suffering from NTDs
The project aims to improve the quality of life of children through preventing, identifying and treating Neglected Tropical Diseases (NTDs) in nine communities of the municipality of Tacuba, in El Salvador. This initiative is intended to strengthen the capacities of the health system and the population's hygiene habits.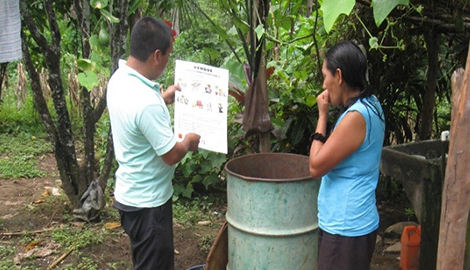 CONTEXT
The project's area of intervention is the rural area of the municipality of Tacuba, in the Department of Ahuachapán, whose total population is 34,362 inhabitants, 84% of whom are concentrated in the rural area, approximately 50% of them being women. According to the data from the Municipal Government and the area's Health Unit there are nine communities in the cantons of Rosario and San Juan - the project's site - with a recorded total population of 5,626 inhabitants of whom 1,986 are boys and girls under the age of 14.

In relation to the social-political and health situation of the communities in question, this is characterised by limited access to resources since more than 9% of the population does not have access to health services, 54% do not have electricity and 27% do not have access to drinking water. Moreover, these cantons do not have access to the municipal sanitation system due to their remoteness and the precariousness of access by road. The most common diseases in the area include outbreaks of dengue fever, zika and chikungunya. Triatoma infestans responsible for transmitting Chagas disease has a 12% infestation rate and geo-helminthiasis affects 81% of the population of the municipality.

PROJECT
The implementation of the project will involve the comprehensive realisation of a series of activities such as monitoring children to assess the state of health of 596 boys and girls from 0 to 14 years of age. This will involve taking blood samples to discover positive cases of Chagas disease, which will be referred to the municipal Health Unit where they will be provided with proper treatment. 150 parents will receive training in disease prevention and helped to attend planning meetings. There will also be solid waste collection and fumigation campaigns, Abate spraying and raising awareness to present disease. Providing five schools with latrines, water filters and waste management containers, to improve the quality of water and sanitation in schools and provide healthcare training to 100 children from 7 to 14 years of age on using latrines hygienically and its importance to preserve a good state of health, among other topics.

These activities aim to improve the population's quality of life and implement a comprehensive and preventive health system and provide accessible treatment to the population suffering from an NTD. Once the intervention has come to an end it is expected that the following outcomes will have been achieved:
Implementing a health system providing medical treatment to children diagnosed with Chagas and other NTDs, since currently the National Health System does not have comprehensive programs to address these diseases.


Strengthening the capacity of parents and under-aged children to address health issues and implement hygienic practices through actions preventing dengue, zika, chikungunya, Chagas, geo-helminthiasis, scabies and ectoparasites.
BENEFICIARIES
The implementation of this project will directly benefit 5,626 people of whom, 3,055 are women and 1,986 our children from 0 to 14 years of age. In accordance with their current circumstances, they may be the beneficiaries of comprehensive healthcare, and sanitation, fumigation and spraying, construction of latrines and training campaigns. It will indirectly benefit 3,921 people of all ages in the neighbouring communities.