Contribution to the improvement of juvenile ocular health in disadvantaged districts of the Department of Dakar, Senegal
The Fundación Ferreruela Sanfeliu, Ocularis Associació and the Institut de les Desigualtats (Inequality Institute) are launching a project that aims to contribute to improving the eye health of young people in the Department of Dakar.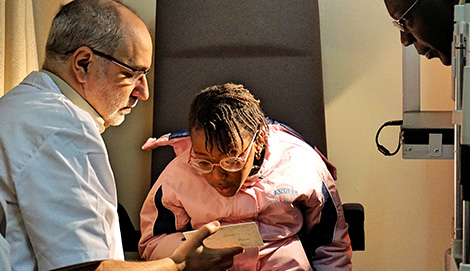 CONTEXT
Senegal has an approximate population of 14 million people, with 50% of its people living below the poverty line. Life expectancy is 66.37 years, the mortality rate stands at 6.21%, and access to social services, such as health and education, remain very limited for a large part of the population. Malaria is the leading cause of morbidity, and cardiovascular disease has become a serious public health problem. The HIV/AIDS prevalence rate is 0.7 per cent, infant mortality remains high, and female genital mutilation and other practices detrimental to women's health continue to exist.

In the area of ocular health, it is estimated that 1.4% of the population suffers from blindness, a figure that represents more than 200,000 blind people, for whom begging is their only option. 8 out of 10 cases of blindness are preventable and curable. An analysis of the problem shows that the essential determinant of blindness is insufficient curative and preventive treatment, a lack of equipment and infrastructure, and economic and sociocultural factors, such as illiteracy and social taboos.

PROJECT
The purpose of the project is to double the number of refractive errors detected by the UCAD (University of Dakar) in young people under 15 years old, and provide optical correction for half of the patients.

Thus, the implementation of the project aims to increase the detection of cases, mainly in schools, by engaging teachers, who will be trained in case detection and provided with simple diagnostic material for free screenings, and by duplicating training in schools. Health education in ocular health will also be bolstered through awareness-raising activities, talks and home visits carried out by women promoting visual health.

There will also be an effort to provide optical correction for those cases detected, for which the project will revamp the optical workshop at the CHU Abass Ndao, which is not currently in operation.

BENEFICIARIES
The direct beneficiaries of the project are 177 people, between women, optical staff and young people. The indirect ones are 507,000 people: teachers, youth, and the population informed.