Construction and commissioning of a gas production central and a circuit of oxygen, medical air and vacuum at the Saint Jean de Dieu Hospital Thies (Senegal)
At the end of 2013 Althaia Foundation started a cooperation project with the Saint Jean de Dieu Hospital of Thies (Senegal). During this new project the Foundation is allocating human and material resources to improve the quality of care at the hospital. Within the framework of the twinning agreement formalized in early 2015, both entities conclude that one priority is to have a safer and more efficient surgical block. To do this there is a whole program to develop and this project is just a part of it. The aim of the Project is to create a gas production central and a circuit of gases (oxygen, medicinal air vacuum i) for the surgical bloc, intensive care unit and delivery room.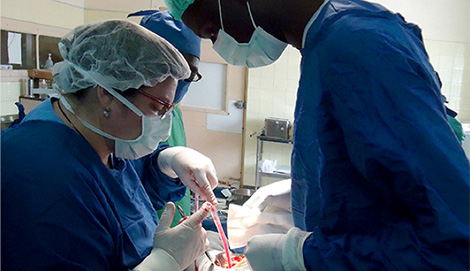 BACKGROUND
Because of structural deficiencies and the lack of a compressor, the Hospital does not have a central gas or a circuit to deliver oxygen (O2), the medical air (compressed) and / or vacuum to the surgical block, room delivery or intensive care unit (ICU).
Oxygen is used, especially through the surgical block respirators for general anesthesia or respiratory support to patients undergoing surgery. It is also used in the ICU for patients they remain sedated or need a respirator and in the delivery room to resuscitate infants who require it.
EXPLANATION OF THE PROJECT
The first project launched in 2015 included the creation of suitable circuits material, personnel and patients to the surgical area, aspects of vital importance from the point of view of safety and hygiene. The structural reform that raised aimed to increase the quality of care and improve process safety, since the proposed amendment would allow the streamlining of surgical procedures and reducing the time of preparation of the material, reducing complications surgical and infection. Ultimately diminish the risks for patients, time of hospitalization and hospital costs
The hospital management received in early 2015 a grant from the Ministry of Health of Senegal which allowed him to start the remodeling and improvement of the surgical block. The works are already finished.
Once remodeled the surgical block now is the time to build the plant gas and relevant circuits. This is the objective of this project, as well as training of staff and maintenance care for central operational.
Once the project is completed they will perform new surgical techniques less invasive and minimize the risk of infection. All this is an improvement in training and stimulus for professionals Hospital.
BENEFICIARIES
Around 3.100. Surgically treated patients: 1102; patient that general anesthesia is performed: 738; patients admitted to the ICU: 231; births: 933. Professional operating theater, delivery room and ICU: 50 people.