Better access to eye health in El Alto and its rural area of influence
Located on the Bolivian highlands, the municipality of El Alto is 4000 metres above sea level. Its population, 90% indigenous, is growing at a pace of 5.1%, in a striking example of urban concentration that has led to great vulnerability in accessing basic services, such as healthcare. Socioeconomic conditions, joined to environmental factors (altitude, constant winds and continuous exposure to sun), cause a highly significant rate and prevalence of eye problems. This further heightens the poverty of the people and families suffering from these diseases. In this context, the Eyes of the World Foundation's project to improve access to eye care and treatment in the city of El Alto, supported by Probitas, seeks a self-sustainable solution to promoting general eye health.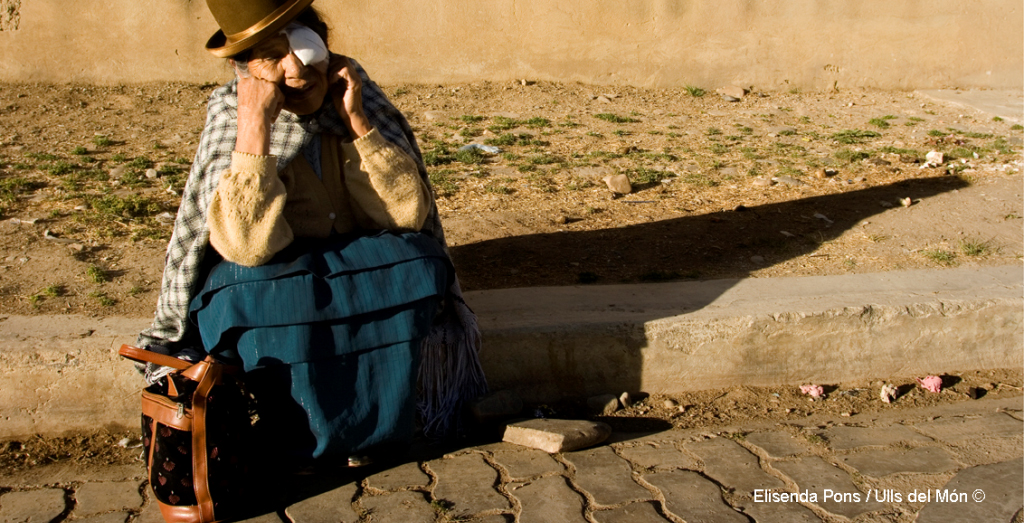 Designed by Eyes of the World (Catalan Ulls del Món), the project is based on increasing access to eye care, capacity building of locals via training, supplying equipment and increasing services and establishments. These initiatives are all done while respecting medical ethics and the region's culture.
The strategy is to train ophthalmology specialists who can then work at public hospitals and health centres, thus strengthening eye-related services and helping the Bolivian government to take responsibility. This goes hand-in-hand with a large-scale community health strategy to raise awareness and prevention on common eye problems. Along this line, Eyes of the World plans is assisting in the creation of a reference system for some 600,000 beneficiaries at affordable costs, with state subsidies and community involvement.
Eye problems are higher than normal in El Alto: conjunctivitis and pterygium are just a couple common diseases. If they are not treated, there can be complications and decreased vision, and this among people already punished by great inequality and poverty. Furthermore, one of the main causes of avoidable blindness in El Alto is cataracts. Since 2003, Eyes of the World has been working in this municipality to create a sustainable and high-quality eye service network. To date, initiatives completed include the provision of all equipment needed in surgeries in municipal hospitals and health centres, the establishment of guidelines for coordination between professionals to expand the training network, and the training of specialists.
The project that Probitas is now supporting is the second stage of this programme, which seeks to consolidate the eye care network through initiatives including the transfer of ophthalmology and prevention knowledge to local partners through agreements and other actions.