Anaemia NO, in Peru
The "Action Against Hunger" project aims to make strides towards the prevention and sustainable reduction of child malnutrition in the rural district of Ajoyani, in Carabaya Province, in Peru's highland Region.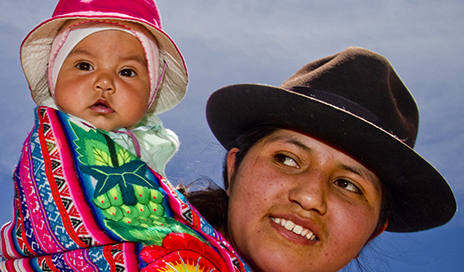 CONTEXT
The Rural District of Ajoyani has a population of 1,938 (2007). In the year 2015, 43.5% of Peruvian children between 6 and 35 months of age suffered from anaemia. The figure in rural areas is 52.3%, while in rural mountain areas it is 54.6%. It is much worse in the Puno region (the project area), where approximately 8 out of 10 children have anaemia, and the percentage stands at 66.0% in the Ajoyani district, according to reports from the National Institute of Health.
Watch video
.
PROJECT
The objectives of the project are to reduce anaemia (iron deficiency) in children under the age of 3 by improving culturally relevant prevention and control family practices; fortifying the capacities of the health sector, local governments, social programs and community organisations; and bolstering the work undertaken in the rural district of Ajoyani, Peru. These points are concretized in the carrying out of:
Family practices for the prevention and control of anaemia: i) sessions demonstrating iron-rich food for boys, girls and pregnant women; (ii) Anaemia Prevention Fairs; and (iii) conducting community-based iron-rich food contests.
Community monitoring of children's health and nutrition for decision-making: (I) the establishment of community centres for the monitoring of anaemia and supplementation with multimicronutrients; ii) an active system of anaemia tracking and evaluation and supplementation through Medical Nutrition Therapy (MNT) iii) a strategy to follow up on family-level anaemia prevention practices
The consumption of iron-rich foods by children under the age of 3: i) iron-rich recipes based on local foods (ii) the dissemination of material on the use of traditional techniques for the conservation of iron-rich foods (iii) instruments for the curing of meat products using local ingredients
The fortification of technical and methodological capacities for the prevention and control of anaemia: i) Workshop on instructive methodologies for adult education ii) Workshop on Community Monitoring Centres iii) Standardization of the dosage of haemoglobin, directed at health and project personnel iv) Training in the prevention of anaemia and supplementation with multimicronutrients for health personnel, coordinators and leaders
Bolstering of the inter-institutional consultation space: i) Local assembly prioritizes the fight against anaemia (ii) Local plan for the prevention and control of anaemia iii) The holding of meetings with leaders to implement activities to combat anaemia iv) Internships with agents from other districts to expand the experience v) Systematisation of the project
BENEFICIARIES
The direct beneficiaries are 529 people, 202 of whom are men, and 327 women. The indirect beneficiaries, meanwhile, are a total of 264 people, of whom only 9 are men.