An effort against social exclusion and its medical-psychosocial consequences in settlements in Lima, Peru
The purpose of the Samusocial project is to mitigate the social exclusion of the population in isolated areas on the outskirts of Lima; specifically, in the highland areas of the Santa Rosa District.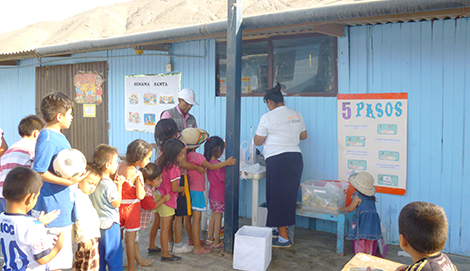 CONTEXT
Lima has more than 10 million inhabitants. The rural exodus has spawned human settlements on the periphery of the capital, areas where people live in a situation of great social exclusion, without access to basic medical and psychosocial services.

This exclusion results in health and social risks, including a high anaemia rate (43.5% in children under 3 years of age), and high rates of family-based violence, as 70% of women are victims of some type of violence by their partner.

PROJECT
Ensuring better access to medical-psychosocial care and reducing the rate of anaemia amongst children and pregnant women in situations of exclusion is the objective of the project. To this end the Samusocial Foundation will provide a mobile unit to conduct daily house calls by health experts.

The project, in addition, includes the organization of health campaigns in coordination with area health centres, sending professionals to isolated and difficult-to-access areas. Finally, there will be awareness-raising and training activities to prevent health and social risks in the community. The project is to be carried out over a period of 24 months and focus on three areas: care, prevention and training.
Care: focuses on caring for a population that is in a situation of health risk (mild disease that worsens, anaemia) or psychosocial (abuse, battery, legal problems ...).
Prevention: focuses on raising awareness in the population to prevent the situation of medical and/or psychosocial risk.
Training: consists of strengthening the capacities of the population to act for their own development. This empowerment enables people to take responsibility for their communities.

The activities are carried out in coordination with local actors to disseminate the intervention methodology, evaluate the impact of the activities, and ensure the effectiveness and efficiency of the project.

BENEFICIARIES
The direct beneficiaries are 1,591 people, of whom 609 are adult women, while 902 are boys and girls, and 80 are adult men.

The indirect beneficiaries are 3,750 people from all the communities living in the project's intervention areas.