Addressing Health Needs in Greece
The general objective of the project: 'Addressing Health Needs in Greece' is to contribute to covering the basic healthcare and psychosocial services of the migrant population in this country. To achieve this aim, primary healthcare and first aid services will be provided to the migrant population who will be ultimately referred to the national, health service installations. In a parallel manner, access will be improved to psychosocial support services at the assigned operational points.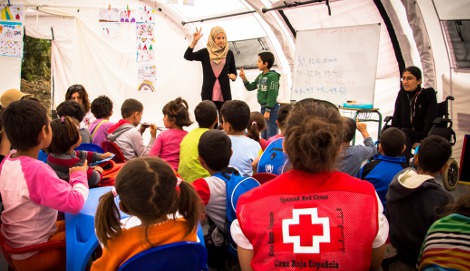 CONTEXT
Following the closure of the border between Greece and the Former Yugoslav Republic of Macedonia in March, 2016, more than 50,874 people have been forced to stay for an indefinite period of time in Greece. Monitoring is being maintained of the migrant population in the formal camps and informal settlements; it shows that there is overpopulation in some of them with precarious health conditions, deficient sewerage and hygiene, and, in general, the living conditions of the camps do not comply with the SPHERE standards.
EXPLANATION OF THE PROJECT
The project, with duration of 12 months from the commencement of its execution, has as its general objective the coverage of the requirements of the basic healthcare and psychosocial support services of the migrant population in Greece. In order to tackle the identified problems, the health response will be focused on primary health care, first aid, and psychosocial support (psychological first aid and friendly, safe spaces for children).
The main activities linked to the project will be, on one hand, the provision of basic healthcare and clinical services by the Spanish Red Cross, and on the other, psychosocial support for the migrant population. To this aim, CRE will work with psychological first aid in child-friendly safe spaces, and carry out activities for the children and their families. In a parallel manner, CRE will provide training in psychosocial support to the employees and volunteers of the Greek Red Cross.
BENEFICIARIES
The beneficiaries are and will be the migrants in Greece that need urgent assistance with respect to healthcare and psychosocial support, without taking into account their legal status or entry routes into the country. The CRE health units have an interpretation service for a number of languages to optimize the quality of the services it provides.