Access to primary health care services for the most vulnerable population in the peri-urban area of Bissau
With support from the Probitas Foundation, we will provide emergency care and facilitate access to quality healthcare for 18,000 people without resources at all Bissau's primary care centres. Through this 15-month project AIDA and its partners in Guinea Bissau will deliver medical and surgical materials and medications for emergency treatment, provide socio-sanitary assistance to patients without financial resources, and train and increase awareness about the proper care of children amongst mothers attending pre-natal and paediatric consultations.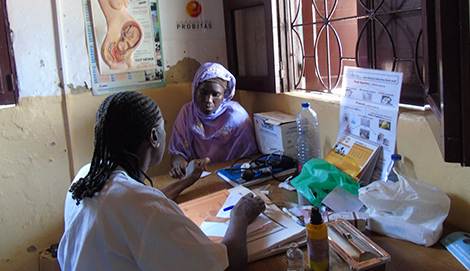 CONTEXT
Guinea Bissau is one of the poorest countries in the world, ranking 178th out of 188 in terms of its Human Development Index (HDI) - which indicates the number of people living below the poverty line (less than two dollars a day). Guinea Bissau's index is 69%, and 33% of the population lives in extreme poverty (less than a dollar a day). The public administrations are, in practice, inoperative and the population lacks even the most basic resources (electricity, water, sanitation...).

The health indicators are among the worst in sub-Saharan Africa, especially with regards to maternal and child morbidity and mortality: 155/1,000 children die before the age of five, and maternal mortality is around 1,000/100,000 per child born alive (UNFPA). The State's political instability and lack of economic resources, particularly the Ministry of Health, means that the population does not have access to health services and cannot afford medicines and treatments.

PROJECT
The project aims to provide the citizens of Guinea Bissau with equal and equitable access to health services. To achieve this there will be periodic deliveries of medicines and medical supplies to the emergency services supplying Bissau's Health Centres. A protocol will be established to record the medical materials and medicines used by emergency services, and people will be identified, evaluated and given psychosocial support. Other actions under consideration for the project include the purchase and storage of the prescribed medical treatments not provided by the healthcare system and that patients are not in a position to acquire.

BENEFICIARIES
The direct beneficiaries of the project are 18,000 people; 14,000 of whom are women, and 2,500, under the age of 15. At least 6,000 people in situations of serious risk will be beneficiaries of medical treatments and medicines. Of these, 2,000 people will be emergencies, and 4,000 people without the financial resources to pay for the medical-surgical material they need.

The indirect beneficiaries, meanwhile, are made up of a total of 180,000 people. These are the families of people without financial resources or in emergency medical situations, and the families of women who will participate in preventive medicine sessions.