Access to ocular health for patients without resources in Beni, Bolivia
The Fundación Mirada Solidaria and the Comisión Pastoral Cáritas Beni are launching a project to eradicate blindness in the entire population of the area of Beni, Bolivia.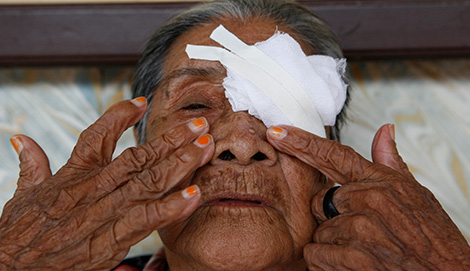 The Bolivian population is comprised of approximately 10.5 million inhabitants of different ethnic groups. Poverty affects the different categories of races differently, and also depends upon gender and origins. Indigenous people, peasants, women and children are the groups most affected by poverty and exclusion.

In Bolivia there are about 130 ophthalmologists, when its population should sustain a minimum of 350, and, ideally, up to 700. 87.5% of the Bolivian population is deprived of ocular health care, and its National Health Plan includes no blindness prevention programs.

PROJECT
The Fundación Mirada Solidaria, together with the Comisión Pastoral Social Caritas Beni will organise a set of activities with the main purpose of eradicating blindness and providing ophthalmological attention to the entire population in the area, especially those people with no or very limited resources. To this end ophthalmological equipment will be acquired, installed and implemented, the necessary medicines for surgery campaigns will be secured, and there will be training for and monitoring of the projects.

The local entity will also see to ensuring the permanence and sound condition of the ophthalmological instruments, the providing of continuous and permanent ophthalmological services, the organisation of surgical campaigns, and post-operative follow-up on the patients who have undergone surgeries.

BENEFICIARIES
The direct beneficiaries are 8,479 patients, between those receiving consultations, those undergoing surgery, and those who recover their vision.

The indirect beneficiaries are the 437,636 inhabitants of the Department of Beni.