A medical expedition to Senegal with the aim of carrying out both ocular surgery and eye examinations for the population of Richard Toll. Barraquer Foundation. Senegal
Ocular diseases, which are very frequent and varied in Senegal, can lead to irreversible blindness with grave socio-economic repercussions.
Every year there appear a large number of supplementary cataracts to be operated on which signifies a serious problem for the public health system.
To alleviate this situation the Barraquer Foundation carried out an ophthalmologic mission in 2015. One of the objectives of the mission was the diagnosis of cataracts, and posterior surgery in the most serious cases, in the city of Richard Toll in the north of Senegal.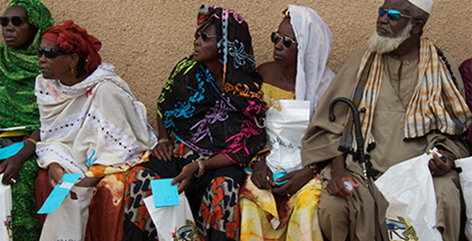 Ophthalmologic health is neglected in large areas of sub-Saharan Africa and Senegal is no exception. In Richard Toll, a city in the north of Senegal with more than 100,000 inhabitants, there is no ophthalmologic surgeon in the public hospital.
Due to climatic and genetic factors, in addition to the nutritional and hygienic conditions related to the lack of resources the population suffers from, there is a high incidence of ocular pathologies in the region.
Many mild ocular pathologies if not treated in time can become serious ones which can undermine the patients' visual capacity and even lead to blindness.
To alleviate the lack of human resources and the accumulated disease load of ocular pathologies in the zone's population, the Barraquer Foundation carried out an ophthalmologic mission at the end of October, 2015.
Thanks to this mission hundreds of individuals received an ophthalmologic diagnosis. Some were given glasses as treatment for their ocular condition, others were operated on for cataracts, and finally a reduced number had pterigion surgery.
The team of the Barraquer Foundation is made up of 3 ophthalmological surgeons and 2 nurses all of whom have experience in similar missions in developing countries.